Attic Ventilation is Important for a Healthy Attic
December 19th, 2022 | by
Robert Bain
Air movement in the attic is the key to keeping mold away!
If you think about it, we put fans in the bathroom for obvious reasons. We want to keep the bathroom a lovely and enjoyable space where we can relax in the tub or shower, get ready for a new day and take care of that business nobody likes to talk about. The fans are used to vent humidity and odours to the outside of the house so that our bathrooms are enjoyable spaces for us to spend some time each day. Moisture trapped inside our bathroom will lead to mold and increased odours.
Attics are different – we rarely, if ever, go up to the attic. But our attic needs proper ventilation more than anywhere even though we don't spent time there. The attic creates a space between our living space and the outside world – it is meant to stay dry (thanks to a quality roof) but it ends up being a cold space in the winter and a hot space in the summer. In the Summer, attics can reach temperatures beyond 70 degrees celsius making it harder to keep the top floors in the house cool. In the winter, this space gets cold and any heat/moisture escaping to the attic through roof leaks, improperly sealed vents or from the living space is bad news!  Mold forms in improperly ventilated spaces where moisture is present.
The attic is the space between the roof and the highest floor in the home. Between our living space and the attic should be an excellent level of insulation to keep heat inside the house without it passing in to the attic where we don't live. Heat rises but with great attic insulation, our hard-earned heating dollars stay inside the house where they belong. Like keeping ourselves warm when outside in the cold, putting on a toque or hat slows the heat from exiting our body out the top of our head.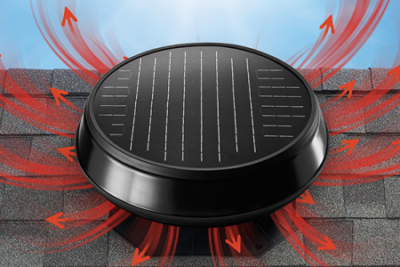 Attic ventilation in many homes comes from soffit venting at underside of the roof edge where air enters up in to the attic and then exits through vents (ridge, gooseneck, gable, turtle vents, etc) this type of venting is called passive – meaning no additional mechanical venting helps support the ventilation process. Active ventilation is the next level of providing excellent attic ventilation whereby a solar-powered attic vent is installed to move massive quantities or air up and through the attic reducing excessive heat and moisture issues in the attic. Many times, passive attic ventilation systems just don't offer enough air movement on Vancouver Island.
We all know how dangerous mold can be and how important getting the most out of our heating and cooling dollars is with the cost of everything rising. Contact Top Trade Insulation and Attic and schedule your no-charge attic inspection. Our highly trained team will come to your home, get up in your attic and provide a thorough inspection report on the health of your attic. Rebates are available now to help reduce costs for improving efficiencies which results in you saving money now, and in the future. Proper insulation and ventilation in your attic can lead to a happier, healthier, more cost efficient future for your family.
Find out for yourself what's in your attic by connecting with Top Trade Insulation and Attic for your no-charge Attic or Crawlspace Inspection.
Top Trade Insulation and Attic provides regular service to:
Greater Victoria: Oak Bay, Esquimalt, View Royal, Highlands, Saanich, Central Saanich, North Saanich, Sidney, Langford,
Colwood, Metchosin, Sooke
Shawnigan Lake, Cobble Hill, Mill Bay, Cowichan Bay
Duncan, Lake Cowichan and Chemainus
Nanaimo, Ladysmith, Parksville, Qualicum Beach and Port Alberni
Courtenay/Comox
Campbell River
If your Vancouver Island town isn't listed here, it may just mean we aren't there on a regular basis, but please connect with us to see when we can schedule your no-charge attic inspection.