No-charge Attic Insulation Inspections - Greater Victoria
March 6th, 2023 | by
Robert Bain
Schedule Vancouver
Islands Best Attic and Insulation Team
Top Trade Insulation and Attic is a Vancouver Island based company providing no-charge attic inspections in Saanich BC and Greater Victoria. What's in your attic? Most people have no idea what's going on in their attic – it can be dangerous, dirty and a little scary getting up on that ladder and opening up the hatch to the attic. Leave it to Top Trade insulation and Attic! Our professional attic inspectors do this every day and we aren't scared of spiders. 😄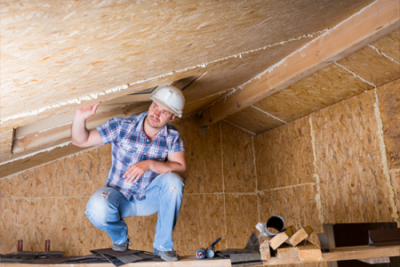 We will come to your home anywhere in Greater Victoria including Saanich, North Saanich, Sidney, Langford, Colwood, Sooke and all the other municpalities. We will inspect your attic while taking quality photos so you can see what's going on without climbing up yourself. We look for signs of mold staining as a sign that something is wrong. We'll assess your insulation levels, ventilation efficiency and areas for improvement. You just can't believe what we seen, from open holes in the roof to bathroom fans venting directly to the attic and not outside.
You may qualify for provincial or national rebates for improving your attic insulation and we'll give you all the details. BTW, we are an Approved Contractor for Insulation by CleanBC. See, we want to keep the heat inside your house while allowing the attic to vent and circulate the air. This helps prevent mold from occurring. When heat escapes from your rooms up in to the attic, the moisture allows mold to grow. Insulation helps to reduce the heat loss to the attic which makes your home safer and more energy efficient.
Reach out to us at Top Trade Insulation and Attic and book your appointment for a no-charge inspection of your attic – We won't take much of your time but we will be thorough and you'll know whether you'll have the opportunity to save some money and improve your home.
We serve all of Vancouver Island but Saanich and Greater Victoria, the Westshore, Sidney and Oak Bay is where we find ourselves very regularly. We would love the opportunity to serve you and show you why Top Trade Insulation and Attic is the #1 choice on Vancouver Island for attic health, insulation and more. Connect with the team at Top Trade Insulation and Attic!
Top Trade Insulation and Attic
Attic and crawl space insulation
Ventilation
Solar-powered attic ventilation systems
Mold stain removal
Attic hatches
BBB Accredited
Great reviews
Some fantastic employees
and more!